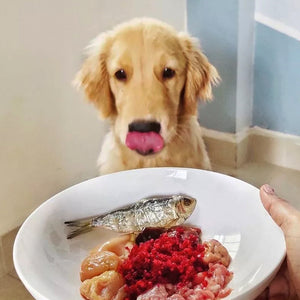 Carni Kitchen, founded by Ashritha Siddantham is a Canine Nutrition consultancy
based out of Hyderabad.
Carni Kitchen curates customized diet charts formulated as per NRC guidelines for
dogs as per their nutritional requirement taking various factors into consideration.
Carni Kitchen only offers consultations for fresh multi-meat based grain-free diets

(unless indicated) & not for Veg/Kibble based diets
Inclusions :
1. Consultation call(upto 30mins) counselling the pet parent about balancing meals,
addressing health issues, guiding you about prepping, handling and transitioning.
Delay in answering will cause reduction in total consultation time.
2. 30+ pages Diet Chart with details & customisations based as per dog's requirements, health issues, preferences of dog and the parent; provided within 3-5
days post consultation call.
3. Guidance to choose between raw and cooked diet.
4. Providing Meat Vendor list in your city(wherever vendor list is available)
5. Helping with supplementation as per dogs nutritional requirements, age, health issues, etc.
6. A list of 80+ FAQS
7. Transition guide, Treat and Chews Guide, 5 page Cooking guide, Bone calculation guide(in raw diet)
8. Helping out with DIY recipes for hacks & supplements.
9. Discount codes from various Holistic Pet Care brands
10. Access to Carni Tribes WhatsApp group
11. Complimentary Follow up E-Mails (As per plan chosen) with list of the questions
you have regarding any difficulties faced with the diet chart. Reply
time: Within 24 Hours, Queries would strictly be addressed on email and not on
WhatsApp or instagram or calls (Unless a follow up call is scheduled)
Prerequisites :
1. Client should agree to adhere to only our given chart and not mix it up with packaged food
2. Should be okay with feeding a meat based diet(cooked/raw/dehydrated/powdered meals)
3. This is chart for a single pet. Please add another chart for the second pet.