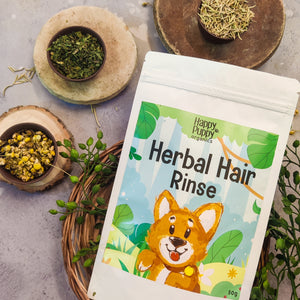 The BEST herbal conditioning pack for your pets (and you)!
We've formulated the first Hair Rinse Tea for pets! Herbal infusions have been used for centuries to naturally soften hair, increase manageability, and restore luster, body, and bounce.
Made with a blend of handpicked herbs sourced from sustainable farms, our herbal hair conditioning rinse can provide deep cleansing, enrich natural hair color, soothe irritation, prevent dandruff and stimulate the scalp to increase growth.
Benefits:
Conditions the hair
Cleanses the skin gives super shine 
Intensively moisturises
Protects the hair shaft
Stimulate hair growth 
Reduces Itching and dry skin
Prevents Hair loss
Directions:
You can infuse the herb blend in hot water, cool it and use post shampoo or just use a rinse on its own. 
Can be used as a conditioning spray between baths.